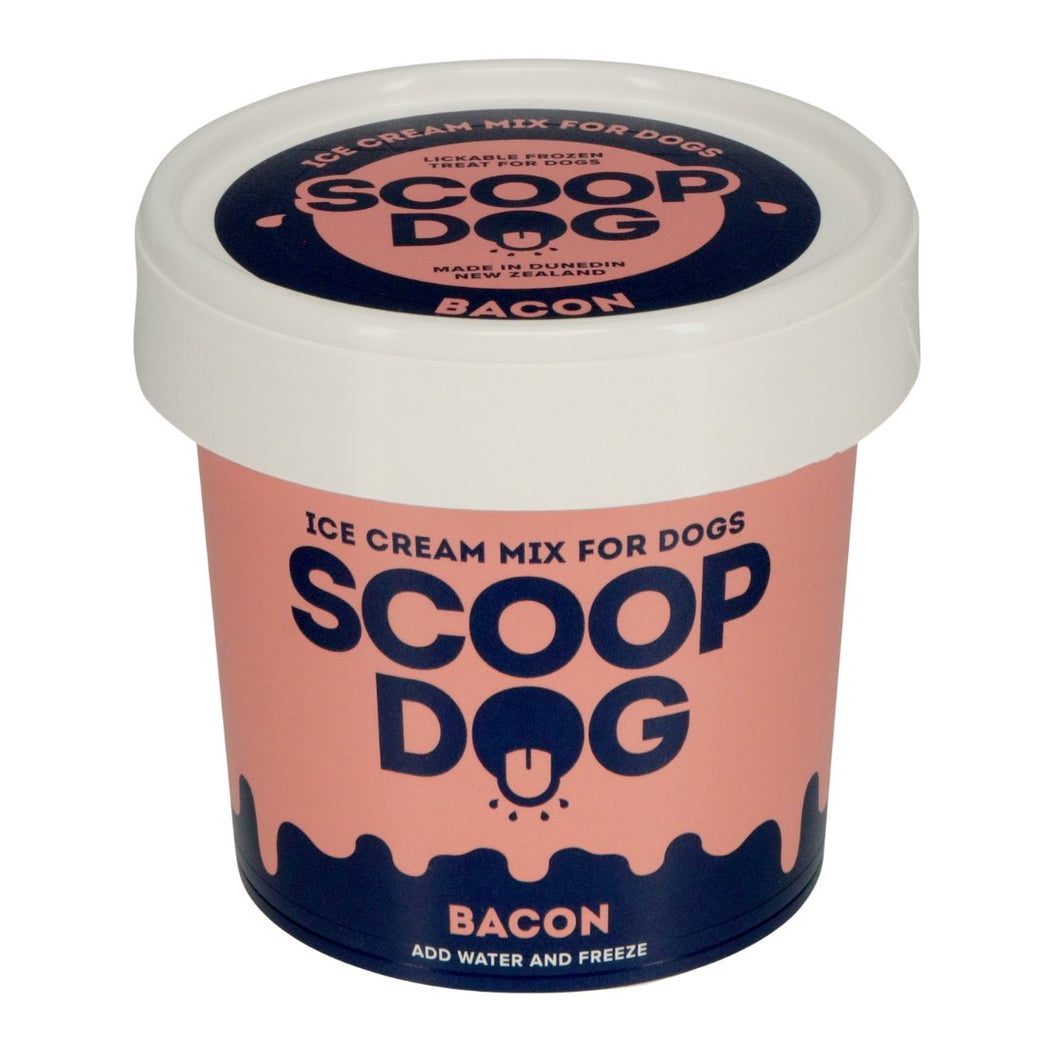 Scoop Dog Ice Cream Mix | Bacon
Regular price $11.90 Sale
Did someone say bacon?! 
Does your dog come running at the smell of bacon? Ours too! That's why we created a natural bacon flavoured ice cream your dog will adore! This savoury ice cream flavour is sure to be your dog's new favourite treat.
Scoop Dog Ice Cream is not only mouth watering but also a healthier treat alternative. Each flavour is made all natural from human-grade ingredients, including New Zealand Goats Milk (mild on your dog's stomach), New Zealand Honey (phenomenal vitamins and nutrients) and has no sugar added or other nasties so you can feel good about serving it to your dog! Just add water, freeze and enjoy!
65g
How To: Empty contents of the ice cream mix packet into small bowl. Add 1/3 cup of hot tap water and whisk until all lumps are removed. Pour back into the container and replace lid, or pour into a silicone mould and freeze. Put in the freezer for at least 5 hours. Let thaw (if needed/desired), and serve.... straight from the tub if your dog can't wait!
Serving: Serve right out of the container or allow it to thaw for 15-20 minutes for it to be scoopable. If still too hard, let it thaw for longer. Dogs love to lick, we keep ours hard and serve straight from container!
Serving Size: Small Dog, 1 Dessert Spoon. Medium Dog, 2 Dessert Spoons. Large Dog, 3 Dessert Spoons. Once per day
Ingredients: NZ Goat Milk Powder, NZ Honey Powder, Beef Gelatine, Natural Flavouring, Salt
Nutritional Analysis: Crude Fat (min) 23.3%, Crude Protein (min) 21.2%, Crude Fibre (max) .5%, Ash (max) 5.2%, Moisture (max) 2.8%
We love seeing your purchases! Tag and follow us on Instagram and Facebook @smackbangstore and use the hashtag #smackbangstore